Welcome to VonHuene.com
We specialize in recorders and other historical woodwind instruments, and sheet music and accessories for early musicians. Our knowledgable staff is dedicated to providing you with the best service and the best instruments.
If you do not find what you are looking for, please call and we will do our best to help. While we are making an effort to keep our website up to date, not everything makes it up in a timely fashion. Please feel free to contact us if you have any questions, or if you have trouble finding anything. Thanks—enjoy!
If you would like to sign up for our newsletter please click the button below.

Store Hours & Info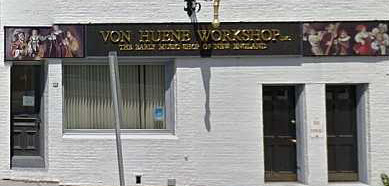 Von Huene Workshop, Inc.
65 Boylston St. Brookline, MA 02445
(617) 277-8690
Monday–Saturday 10AM-5PM (EST)